ROUTE LOG
TN 48: 0 - 0
US 70 Bus, TN 235: 0.3 - 0.3
TN 48: 0.3 - 0.6

Creation: Appeared between 1963-82 as an alternate routing for TN 48 through Dickson.
Adjustments: None
Posting: Posted as secondary routing everywhere. It has the unusual property of an ALT posting instead of the typical A used in Tennessee for alternate routes.
Secret US Route Overlay: None
Comment: Uses Center Ave, Church St and Ricket Ave. Northbound TN 48 traffic must use TN 48A because TN 48 on Main St is one-way southbound between Walnut St and US 70 Bus.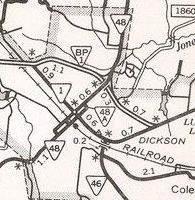 TN 48A in Dickson
1982 Dickson County