ROUTE LOG
I-81 (exit 296), VA 55 EB: 0 - 0
Frederick-Shenandoah Line: 5.53 - 5.53
WV STATE LINE: 8.70 - 14.23

Creation: First proposed to be assigned to Appalachian Corridor H in 2001, from Strasburg west to I-79 Weston, WV. This was approved by AASHTO in Dec 2002. Per Dan F, US 48 was first posted in 2003 as an addition to VA 55 from I-81 west to West Virginia.
Adjustments:None
Improvements: Upon designation, US 48 was fully paved; no multilane segments
Posted: Fully posted; Error US 48 posting exists at Borden Mowery Dr which is east of I-81.
Multiplexes: VA 55 (14.23 mi)
Legislative names: John Marshall Highway (9/7/33 designation predates US 48);
Other names: Wardensville Pike (Frederick Co)
Scenic Byway: Frederick SR 600 to I-81 (since 6/12/97);
Comments: Corridor H is entirely a West Virginia endeavor at this point. Virginia has shown no interest in making US 48 an expressway-type route. It has posted the route for continuity with West Virginia and that's about it. As of early 2022, Corridor H has been constructed as nearly entirely new alignment from Wardensville WV west to Davis, with more under construction from Kerens to Parsons. West Virginia had been posting US 48 on each new segment as it opened on the road heading westward, but when the route was built to Davis they added US 48 shields along WV 32, US 219, and US 33 for the entirety of the Corridor H designation.
Construction of the segment from Wardensville to the Virginia line is expected within the next few years and that is when to watch for Virginia doing anything on its portion.
US 48 did not appear on a state official map until the 2016 issue, but it had been in several Rand McN issues and was explicitly shown in traffic logs since 2003.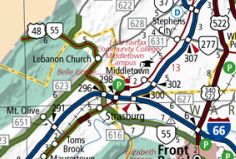 US 48 finally appears on the map
2016-18 Official