From: Tega Cay (York County)
To: east of Fort Mill (York County)
Total Length: 7.5 miles
ROUTE LOG
SC 160: 0 - 0
I-77 (exit 88): 2.2 - 2.2
US 21: 1.1 - 3.3
US 21 Bus NB: 0.3 - 3.6
US 21 Bus SB: 0.7 - 4.3
SC 160: 3.2 - 7.5

Creation: SC 460 appeared in 2012 as an upgrade to S-46-98; overlay with US 21 Bus; upgrade to S-46-270; newly constructed segments in between some of these designations, which were completed by 2008 and the entirety of SC 460 was first posted as SC 160 TRUCK. This is the 2nd SC 460.
Adjustments: None
Improvements: Fully paved upon designation; multilaned upon designation from just east of I-77 west to SC 160.
Comment: Forms a full loop around the north and east of Fort Mill. No idea why this wasn't made SC 160 Bypass.

SC 460 around Fort Mill
2012 Official
Previous SC 460's:

1946 ROUTE LOG
SC 462: 0 - 0
END SC 460: 3.9 - 3.9

SC 460 #1: Appeared in 1943 as new primary routing, running from SC 462 (nnow US 278/SC 46 jct) east to the ferry landing for Hilton Head Island.
In 1947, SC 460 was downgraded to S-7-39. Today it is US 278 and S-7-242 to the old ferry landing.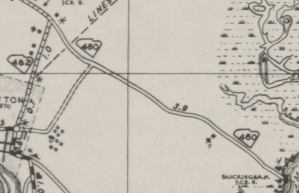 SC 460 in southeastern Beaufort County
1943 Beaufort County