From: Jackson (Madison County)
To: near Threeway (Madison County)
Total Length: 8.8 miles
ROUTE LOG
US 45, US 70 EB, TN 1 EB, TN 5: 0 - 0
US 70 WB, TN 1 WB, TN 186 Begin: 1.5 - 1.5
US 412 Bus, TN 20: 2.1 - 3.6
I-40 (exit 80): 0.3 - 3.9
US 45, TN 5, TN 186 NB: 4.9 - 8.8

Creation: Appeared 1982 (AASHO) as a renumbering of TN 5 Byp routing around the west of Jackson, running as it does now. This is the 1st of 2 US 45 Bypass routes in Tennessee.
Adjustments: None
Posting: Fully posted
Secret TN Route Overlay: TN 1 (1.5 mi)
TN 186 (7.3 mi)
Comment: US 45 Bypass is being extended south on new construction to bypass more of Jackson and will meet back up with US 45/TN 5 at the area where TN 18 comes in. ROW starts in 2021 per TDOT Website.

US 45 Bypass at Jackson
2001 Official
Previous US 45 Byp's:
US 45 Byp #2: My guess is that this was designated in 1982 but it could have been sooner as the road itself was built in the early 1970s. It ran from US 45E south of S. Fulton KY west around to the US 45W-51-51 Byp interchange just before the Kentucky line.
In 1989 (AASHO), US 45 Byp was renumbered as part of US 45E.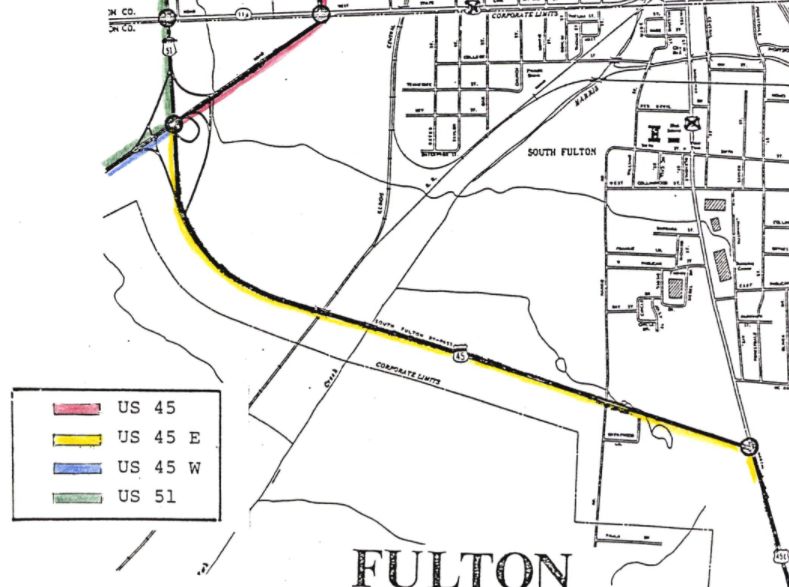 US 45 Bypass being replaced
1989 AASHO Application
---
Previous: US 43 | Next: US 45 | US 45E
Top | Tennessee Hwy Index Home
Page last modified 14 August 2021