I-70S:
I-70S: West Virginia Annual Highway Reports from at least 1958-61 explicitly mention I-70 SOUTH as an interstate in West Virginia, within an expenditure table. Specifically the Fort Henry Bridge to the Pennsylvania line. Separately, Interstate 70 has listings covering what is I-70 today.
So what's up with that? Unfortunately, the Annual Reports for 1955-57 are not available to see if any additional information is available. There was an I-70S not far away, but every map I've ever seen has it beginning in Washington PA and heading eastward.
Both the 48,000 mile and 78,000 proposed interregional highway systems had a setup where a highway would follow today's I-70 and another would follow roughly US 22 to Pittsburgh. Had these survived to the Interstate System creation in 1956, then I-70S would've made sense as the designation of the Wheeling branch.
Otherwise, I have no idea what the origina of this might be. The 1958-61 reports do not have an Interstate 70 NORTH.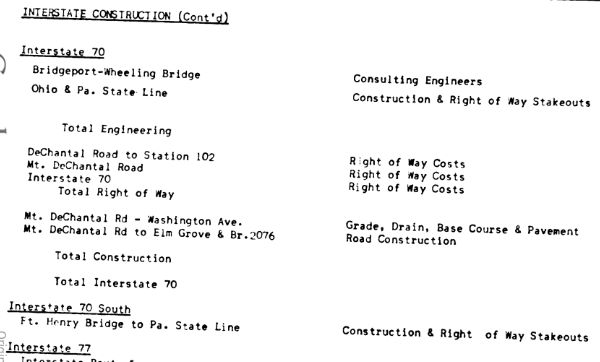 I-70 and I-70S with line items
1960 WVDOH Annual Report