ROUTE LOG
US 52, WV 16 SB, WV 103: 0 - 0
US 52 Spur: 1.1 - 1.1
US 52 Spur, WV 16 NB: 0.1 - 1.2
WV 16 ALT: 0.1 - 1.3
US 52: 1.0 - 2.3

Creation: Appeared about 1960 as a renumbering of US 52 through Welch.
Adjustments: The one-way splits in downtown Welch were likely present by 1960, but it appears up into the mid-1980s (historic aerials) that WB traffic followed Howard St directly to McDowell to head south back towards US 52. Today, Howard St does not continue as a through street and traffic must follow WV 16 NB on Wyoming north until either Bank St (US 52 Spur) or McDowell to cut back south (this is the posted route for TO US 52 as of 2015 GMSV)
Improvements: Fully paved upon inception; brief multilane on any one-way splits
Comment: US 52 ALT is posted with exactly one shield, eastbound leaving US 52/WV 103. I do not know if this is an error or if US 52 ALT was fully posted at some point and this is the only shield left. US 52 ALT is also identified on bridge markers over Elkhorn Creek.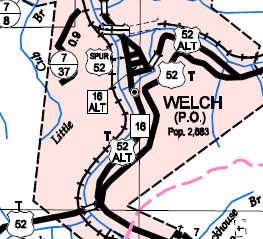 US 52 ALT in Welch
2004 McDowell County