From: Welch (McDowell County)
To: Welch (McDowell County)
Total Length: 0.21 miles
ROUTE LOG
US 52 ALT, WV 16 SB: 0 - 0
WV 16 ALT: 0.03 - 0.03
WV 16 NB: 0.03 - 0.06
WV 16 NB: 0.06 - 0.12
US 52 ALT, WV 16 SB: 0.09 - 0.21

Creation: Goes back to at least 2004 in its present routing, as an addition to WV 16 NB Wyoming St, a replacement for CR 16/32 Bank St, and an addition to WV 16 SB McDowell St. This forms a one-way loop around central Welch off US 52 ALT. This is the 2nd US 52 Spur.
Adjustments: None
Improvements: Fully paved upon inception; the WV 16 overlays are multilane
Comment: US 52 Spur is not posted and it is unclear what is accomplished by it. GMSV is from 2015, but it has TO US 52 shields following WV 16 NB to where it meets with WV 16 SB to get back around downtown. A visit to Welch is necessary to see if that set-up has changed since 2015.
Oddly, the 2014 McDowell County map supplement shows CR 16/32 again (though the main McDowell 2014 map does show US 52 Spur).

US 52 Spur in Welch
2004 McDowell County


US 52 Spur shown as CR 16/32
2014 McDowell County Supplement


US 52 Spur shown again
2017 McDowell County
Previous US 52 Spur's:
US 52 Spur #1: Unknown when it began but was definitely in existence 1978-82, running on Cherry St/Maryland Ave from US 52 (Highland Ave) south to below Montclair St south of the Bluefield Regional Medical Center.
Today it is CR 52/25. Can't say I see what the point of this was.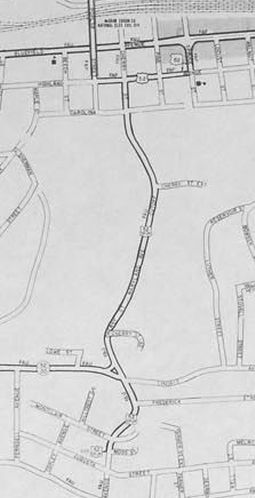 US 52 Spur Bluefield
1980 City of Bluefield