ROUTE LOG
US 19, WV 3: 0 - 0
US 19, WV 3: 8.4 - 8.4


Creation: WV 307 was designated in 1976 as an upgrade to CR 9, CR 22, and CR 19/16, running as it does today. This is the only WV 307.
Adjustments: None
Improvements: Upon designation, WV 307 was fully paved; no multilane segments.
Comment: Serves Little Beaver State Park
Despite it being a horseshoe shaped route aligned generally E-W, the route is posted as WEST from the southern US 19/WV 3 jct all the way around the loop it makes. It would make more sense to me to have it posted as N-S.
WV 307 does not intersect I-64 but comes very close to Exits 125 and 129. Prior to I-64 being opened, the northern piece of WV 307 was the main way to get to the Beckley Airport.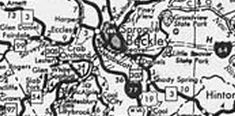 WV 305 west of Beckley
1976 Official