ROUTE LOG
US 119, WV 214: 0 - 0
US 60: 1.7 - 1.7


Creation: WV 601 was designated about 1976 as an upgrade to unknown secondary designation which had not long before been WV 14 ALT running as it does today. This is the only WV 601.
Adjustments: None
Improvements: Upon designation, WV 601 was fully paved; no real multilane segments.
Comment: It appears the zig-zag at Kanawja Turnpike is poorly posted for WV 601 turns.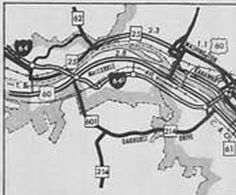 WV 601 appears
1976 Official