From: Powhatan (Powhatan County)
To: north of Powhatan (Powhatan County)
Total Length: 0.64 mile
ROUTE LOG
VA 13: 0 - 0
VA 300Y: 0.10 - 0.10
US 60: 0.54 - 0.64

Creation: Appeared Oct 1935 (CTB) as a newly numbered route. Ran as it does today. This is the 2nd VA 300.
Adjustments: None
Improvements: Paved upon inception; no multilane segments
Posting: Fully posted at US 60 and VA 300Y but not at all at VA 13.
Multiplexes: NONE
Legislative names: Marion Harland Lane (entire route), designated 2-22-50.
Other names: Scottsville Rd (VA 300Y to US 60); Tillman Rd (E-W jog in Powhatan); Courthouse Tavern Rd. (VA 13 to Tillman)
Scenic Byway: No segments
Comment: A short connector that really doesn't serve that much purpose, as US 60 and VA 13 meet on both sides of Powhatan providing simple access.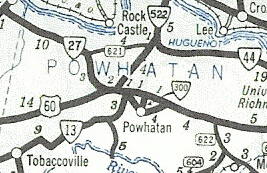 1941-42 Official
Previous VA 300's:

1932 ROUTE LOG
US 170, VA 14: 0 - 0
VA 12: 2 - 2

VA 300 #1: Appeared in 1929 as a newly numbered route. Ran from US 170 (curr VA 293) to VA 12 (curr VA 51) west of Danville. VA 300 was renumbered as VA 125 in July 1933. Today it is unnumbered.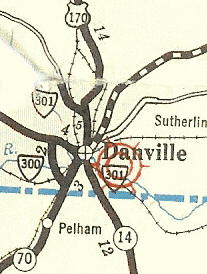 1931 Official