From: near North (Orangeburg County)
To: (Calhoun County)
Total Length: 9.0 miles
ROUTE LOG
US 178: 0 - 0
SC 692: 0.2 - 0.2
Calhoun-Orangeburg Line: 4.0 - 4.2
US 21: 4.8 - 9.0
SC 6: 0.1 - 9.1

Creation: SC 172 appeared in 1940 as new primary routing, running the way it does today. This is the 2nd SC 172.
Adjustments: In 1977 or 1978, SC 172 was placed on new construction leaving behind Daffodil Rd and a little S-9-153.
Improvements: SC 172 was paved in 1949; no mulitlane segments
Comment: SC 172 (with SC 6) provides direct access from I-26 to US 178 heading for North.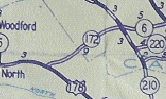 SC 172 east of North
1940 Official
Previous SC 172's:

1947 ROUTE LOG
US 17, US 701: 0 - 0
Berkeley-Charleston Line: 5.4 - 5.4
END SC 172: 1.0 - 6.4

SC 172 #1: Appeared in July 1937 (SCDOT) as new primary routing, running from US 17-701 Whitehall Terrace north across the Wando River using Gregorie Ferry then ending at today's S-8-33 Cainhoy.
In 1939, SC 172 was moved onto the newly opened Wando River bridge to curl around to Cainhoy. The Berkely County side may have remained SC 172 coming from the other direction or been SC 172 ALT but eventually became SC 519 (now S-8-26 Fogarty Ln).
In 1940, SC 172 was renumbered as parts of SC 511 (this is now today's Gregory Ferry Rd; Joe Rouse Rd; undrivable dirt roads; SC 41 across the river). and SC 519 (now S-8-98).

SC 172 north from US 17-701
1937 Official


SC 172 replaced by SC 511 and SC 519
1940 Official