From: Bradshaw (McDowell County)
To: Huff Jct (Mingo County)
Total Length: 38.6 miles
ROUTE LOG
WV 83: 0 - 0
US 52 SB: 11.5 - 11.5
Wyoming-McDowell Line: 4.2 - 15.7
WV 97: 6.3 - 22.0
Mingo-Wyoming Line: 2.2 - 22.2
US 52 NB: 4.3 - 26.5
Logan-Mingo Line: 6.3 - 32.8
WV 10: 5.8 - 38.6

Creation: WV 80 was designated between 1941-44 running generally the way it does now. This was an upgrade to McDowell CR 5; addition to US 52; upgrade to Mingo CR 11; upgrade to Logan CR 11. This is the 2nd WV 80.
Adjustments: Sometime after 1949, US 52/WV 80 was straightened out at the McDowell-Wyoming line, leaving behind unnumbered Old US 52.
Improvements: Fully paved by 1946; no multilane segments
Comment: none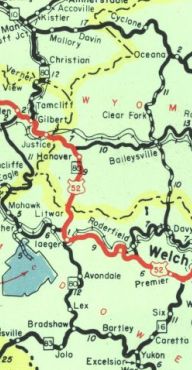 WV 80 in southwestern West Virginia
1946 Official
Previous WV 80's:

1926 ROUTE LOG
WV 4: 0 - 0
Virginia State Line: 4.0 - 4.0

WV 80 #1: Appeared 1925 (WVDOT annual report) as new primary routing running from WV 4 (now US 19) Bluefield southeast to the Virginia State Line.
In 1927, WV 80 was renumbered as part of US 21. Today it is US 52 Bland St, then all of WV 598 except right around US 460 which rerouted the original highway. This contradicts the 1932 Bland County VA map from VDOT which showed US 21 still using the historic crossing of the mountain that was essentially above today's I-77 tunnel and comes out well east of Bluefield.
I have not yet found a map that shows WV 80, but it is explicitly described in the 1927 Annual Report of the Highway Commissioner.