Previous SC 15's:

1934 ROUTE LOG
US 221: 0 - 0
SC 92: 10 - 10

SC 15: An original state highway that ran from SC 2 (now SC 93) Clemson southeast to Anderson then east through Belton to end at SC 2-10 (now US 76 Bus/221) Laurens. SC 15 likely did not use SC 28's exact routing between Anderson and Pendleton but there are several ways this could have been accomplished.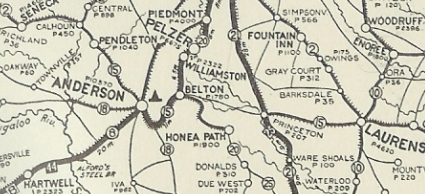 SC 15 Calhoun (Clemson) to Laurens. Note the direct line from Belton to Princeton is likely an error
1922 Auto Trails


In 1929, SC 15 west of Honea Path was renumbered as SC 24. Today it is SC 28 corridor except SC 28 Bus in Pendleton; US 76-178 Anderson to Honea Path.
Also in 1929, SC 15 was extended north with SC 10 out of Laurens to Watts Mill, then northeast as new primary routing to end at SC 92 near Cross Anchor.

SC 24 replaces SC 15 west of Belton; SC 15 extended northeast to SC 92
1930 Official


In 1933, SC 15 west was truncated to Laurens, replaced by US 76. SC 15 used the Old US 76 loop west of Hickory Tavern; Elledge Rd at the Reedy River; Boyce Page Rd near Princeton
In 1935, SC 15 was renumbered as SC 30. Today it is the SC 49 corridor (today this is many abandoned alignments, Sandy Springs Rd, and S-42-10 at the north end).

US 76 replaces SC 15 Belton to Laurens
1933 Official


SC 30 replaces the last of SC 15
1935 Official