From: Memphis (Shelby County)
To: Mississippi State Line at Red Sulphur Springs (Hardin County)
Total Length: 109.9 miles
The route continues 265 miles as MS 25 to end at I-55 Jackson MS
ROUTE LOG
TN 14: 0 - 0
US 64 EB, US 70 EB, US 79 EB, TN 1: 0.5 - 0.5
US 64 WB, US 70 WB, US 79 WB, TN 277: 0.7 - 1.2
US 72 WB, TN 23: 0.9 - 2.1
I-240 (exit 15): 6.0 - 8.1
TN 177 SB: 3.4 - 11.5
TN 177 NB: 0.2 - 11.7
TN 175: 7.7 - 19.4
US 72 EB, TN 86: 0.3 - 19.7
Fayette-Shelby Line: 2.3 - 22.0
I-269 (exit 3): 0.3 - 22.3
TN 196: 0.9 - 23.2
TN 194: 4.5 - 27.7
TN 76: 8.7 - 36.4
TN 18 SB: 10.8 - 47.2
TN 18 NB: 0.3 - 47.5
Hardeman-Fayette Line: 0.6 - 48.1
TN 368: 0.4 - 48.5
TN 125: 17.2 - 65.7
McNairy-Hardeman Line: 6.5 - 72.2
TN 234: 10.2 - 82.2
US 45, TN 5: 4.4 - 86.6
TN 224: 6.6 - 93.2
TN 22: 2.3 - 95.5
Hardin-McNairy Line: 1.3 - 96.8
TN 142 SB: 1.7 - 98.5
TN 142 NB: 1.0 - 99.5
TN 128: 5.4 - 104.9
MS STATE LINE: 5.0 - 109.9

Creation: Appeared in 1927 or 1928, running generally as it does now, though the 1929 Official shows the road may not have existed yet east of the Shelby-Fayette Line except for a piece between TN 5 (now Flower/Tom Baker Rd) and the Hardin/McNairy Line. This is the 2nd TN 57.


TN 57 mostly aspirational routing
1929 Official


Adjustments: In 1930, TN 57 existed through Fayette and Hardiman Counties; additionally, TN 57 was placed on US 45 north to almost Selmer, then east to Shiloh Battlefield.

TN 57 mostly completed routing
1930 Official


It is unclear if TN 57 ever used Poplar Pike from east of I-240 through Germantown and back to US 72 west of Houston Levee Rd but if so it stopped doing so by 1930.
By 1932, TN 57 existed everwhere in McNairy County and from Shiloh Battlefield to Mississippi.
About 1934, TN 57 was rerouted between Pocahontas and Ramer by going via Chewalla. The old route used today's 57 into McNairy County, then an abandoned alignment connecting to Christmas Tree Ln, then used Dan Head Rd back to today's TN 57. State Officials showed both routings from at least 1933-38, but the 1938 county maps showed only the reroute via Chewalla.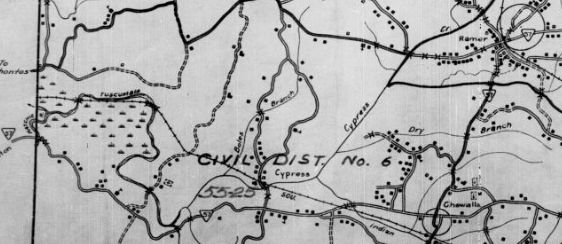 TN 57 rerouted via Chewalla
1938 McNairy County


If TN 57 ever used Pickett Rd/Bud Cleary Rd/W Shiloh Church Rd in the Stantonville area it stopped doing so by 1935
Also by 1935, TN 57 was removed from Bluebird Rd and given its current crossing into Mississippi.
In 1939, TN 57 was given its current routing between Pocahontas and Ramer. The old route used Wolf Pen Rd and Butler Chapel Rd to Chewalla, then today's TN 224 north to Ramer.
In 1939 or 1940, TN 57 was rerouted at Shiloh Battlefield to follow TN 22 southwest to Michie, then east back to Counce to pick back up on original TN 57. The old route used Hamburg-Purdy Rd through the battlefield, then Federal Rd through Hamburg; Leath Rd and Narrows Ln to the west edge of the Tennessee River. The roadway no longer exists past Chambers Creek and through Packaging Corporation of America's property except right at the Gate 4 entrance off TN 57.
In 1948, TN 57 was placed on new construction from US 45 to Michie. The old route remained part of US 45 and east to Shiloh Battlefield became TN 142. South of the Battlefield remained TN 22 (used Corinth Rd and abandoned roadway to the village of Shiloh). East of Michie TN 57 was using the TN 22-57 cutoff.

TN 57 from Shiloh Battlefield southeast to Counce
1938 Hardin County


TN 57 removed from Chewalla
TN 57 rerouted southwest out of Shiloh
1940 Official


TN 57 directly across US 45 and away from Shiloh
1951 Official

About 1958, TN 57 was moved in Memphis from Poplar Ave onto the newly constructed Union Ave Ext. to end at East Parkway a little further south. This is based on an Aug 1960 photo. I have not yet found a map that shows it though.
By 1964, TN 57 was moved back to Poplar, with the Union Ave Ext becoming part of TN 23.
In 1968, TN 57 was removed from Old State Hwy 57 south out of Pickwick Village (used to run right through the current golf course); also removed from Waddell Rd at Shanghai.
In 1983, TN 57 west was extended north from its west end replacing part of TN 1 SPUR along E. Parkway to end at TN 14.

TN 57 original Memphis end
1932 Official


TN 57 extended to TN 14
2002 Shelby County

Posting: Posted as secondary routing west of Germantown (except US 64-70-79 overlay); posted as primary routing everywhere else.
TN 57 is not posted at TN 14 or anywhere along East Parkway. It's US 72 overlay is posted in a few places. The TN 18 overlay is fully posted.
Secret US Route Overlay: US 64-70-79 (0.7 mi)
US 72 (17.6 mi)
Comment: TN 57 runs along the bottom of Tennessee from Memphis to Pickwick Dam area before turning south into far northeastern Mississippi.
Previous TN 59's:
TN 57 #1: An original state highway which in 1924 ran from TN 1 (now TN 127) outside McMinnville to TN 28 (now Grove St) Pikeville.
In 1927 or 1928, TN 57 was renumbered as part of TN 30. It is still TN 30 from McMinnville area to Spencer except for Junior Witt/Payne Rd/Old State Route 30 at the Van Buren/Warren line area and McMinnville Hwy leading into Spencer; From Spencer, TN 57 used Old Dunlap Rd; TN 111; Feedstore Rd; TN 111; Pine Grove Rd; TN 111; "Old TN 111" to about 1/2 mile past Phifer Mine Rd; abandoned routing east to the Goforth/Phifer Mine intersection; Phifer Mine Rd, Open Range Rd, then 500 ft of Wild Turkey Rd; abandoned routing east to Park Rd and Lakeside Rd to the Fall Creek State Park Lodge; abandoned routing under the lake; Village Camp Rd; TN 284, Fire Tower Rd, Old Spencer Rd/Cleveland Ave into Pikeville.

TN 57 original route
1924 Official


TN 57 becomes part of TN 30
1929 Official
---
---
Previous: TN 56 | Next: TN 58
Top | Tennessee Hwy Index Home
Page last modified 4 December 2020