From: Weston (Lewis County)
To: Virginia State Line near Capon Bridge (Hampshire County)
Total Length: 142.2 miles
Nationally US 48 runs from Weston to Strasburg VA
ROUTE LOG
I-79 (exit 99), US 33 WB, US 119 SB: 0 - 0
Upshur-Lewis Line: 7.1 - 7.1
US 119 NB, WV 20: 5.1 - 12.2
Randolph-Upshur Line: 14.8 - 27.0
US 250 NB, WV 92 NB: 1.4 - 28.4
WV 92 SB: 3.4 - 31.8
US 33 EB, US 219 SB, US 250 SB: 3.4 - 35.2
Tucker-Randolph Line: 11.5 - 46.7
WV 72 NB: 8.1 - 54.8
WV 72 SB: 2.0 - 56.8
US 219 NB, WV 32 BEGIN: 11.8 - 68.6
WV 32 SB, WV 93 EB: 2.1 - 70.7
Grant-Tucker Line: 11.6 - 82.3
WV 93 EB: 1.5 - 83.8
WV 93: 1.4 - 85.2
Hardy-Grant Line: 18.4 - 103.6
WV 55 WB: 9.3 - 112.9
WV 29, WV 259 SB: 14.7 - 127.6
WV 259 NB: 9.4 - 137.0
VA STATE LINE: 5.2 - 142.2

Creation: Approved by AASHTO in December 2003 to run the entire length of Appalachian Corridor H. At that time only WV 55 from Moorefield to Baker and US 33 and US 219 from Weston to north of Elkins had been constructed. US 48 was not posted anywhere in West Virginia initially. This is the 2nd US 48 in West Virginia and the 3rd one nationally.
Adjustments: In 2006, Corridor H was constructed from Baker to Wardensville.
In October 2010 (Adam Frohlig), Corridor H was constructed from Mooresfield to CR 3 west of Forman. It was at this point that US 48 was signed on WV 55 from the Virginia line to Moorefield and by itself west of Moorefield. Signage was confusing as there was a US 48 END marker at the top of the ramp at CR 5 Forman but the stub west to CR 3 also had US 48 shields. US 48 may have briefly been open only to CR 5.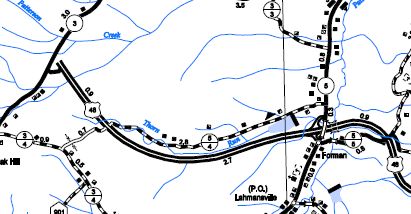 US 48 extended to CR 3 west of Forman
2014 Grant County


In October 2012 (aaroads forum), US 48 was extended to Scherr to a connector with WV 93.
In November 2013 (aaroads forum), US 48 was extended from Scherr to Bismarck connecting to WV 93.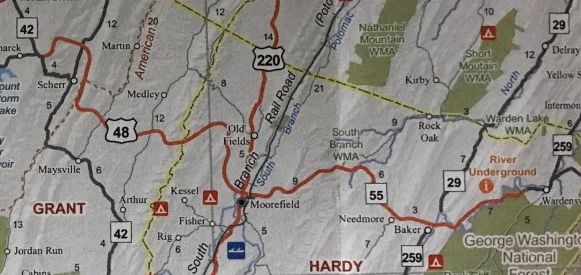 US 48 extended to Bismarck
2014 Official


In November 2014 (aaroads forum), US 48 was extended west about 2 miles from Bismarck to connect with
In November 2016 (aaroads forum), US 48 was extended west to WV 32 Davis, mostly as new construction parallel to existing WV 93.

US 48 extended to Davis
2019 Official


In February 2017 (aaroads forum), US 48 was signed on WV 32 to Thomas and US 219 to Kerens, then along the completed Corridor H near Elkins to I-79. The latest available state official (2019) does not acknowledge US 48 west of Davis.
Improvements: Fully paved upon inception
US 48's multilaning is all associated with Corridor H routings/extensions.
Comment: US 48 will eventually be fully 4-lane, mostly expressway
Right now it is still faster to use US 50 to Clarksburg from say Moorefiled than to use US 48 to I-79. This may not remain true once Corridor H (US 48) is fully finished.
Previous US 48's:

1988 ROUTE LOG
I-79: 0 - 0
US 119: 1.2 - 1.2
WV 7: 3.0 - 4.2
CR 857: 2.9 - 7.1
CR 857: 3.1 - 10.2
Preston-Monogalia Line: 4.4 - 16.6
CR 73/12: 0.2 - 16.8
WV 26: 8.1 - 24.9
CR 5: 5.9 - 30.8
MD STATE LINE: 3.1 - 33.9

US 48 #1: Approved as the designation for Appalachian Corridor E in October 1969 (AASHO) which was the planned freeway from Morgantown WV to Hancock MD.
Although a 1991 Maryland SHA Document says the entirety of West Virginia's portion of US 48 was dedicated November 13, 1975, both the 1976 WV Official map and a 1976 Comptroller Report on the progress of the Appalachian Corridors in West Virginia show that the segment between the two CR 857 interchanges was not finished as of June 30, 1976.
The Cheat Lake bridge was built in 1976, so US 48, which was routed temporarily along WV 73 (now CR 857), was completed in late 1976.

US 48 Morgantown to Maryland, with gap at Cheat Lake
1976 Official


US 48 completed
1988 Official

In June 1989 AASHTO approved changing US 48 to I-68, pending FHWA approval. This actually happened in 1991.


US 48 becomes I-68
1992 Official