From: near Park (Grayson County)
To: Grayson Highlands State Park(Grayson County)
Total Length: 8.87 miles
ROUTE LOG
Creation: Appeared around 1976 as an upgrade to SR 877. This is the only VA 362.
Adjustments: None
Improvements: Paved upon inception; no multilane segments
Posted: Fully posted with shields only at US 58.
Multiplexes: None
Legislative names: None
Other names: Grayson Highlands Ln
Scenic Byway: None
Comment: VA 362 has a main park road that curls around to the top of the mountain, plus a couple feeder roads to park amenities.
The park opened in 1965 originally as Mt Rogers State Park.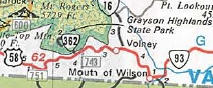 VA 362
1976 Official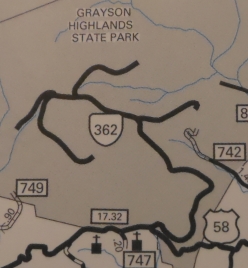 VA 362 in detail
1995 Grayson County
From: near Weyers Cave (Augusta County)
To: Blue Ridge Community College
Total Length: 0.30 miles

ROUTE LOG

Creation: Appeared in Dec 1967 (CTB), running as a stub into the college. This is the only VA 363.
Adjustments: About 2004, a second stub into the college was put into the system.
Improvements: Paved upon inception; no multilane segments
Posted: The northern (original) stub is posted with a shield in each direction from US 11. The southern stub is posted with rectangles at US 11.
Multiplexes: None
Legislative names: None
Other names: None
Scenic Byway: No segments
Comment: Although it is possible to drive a loop through the campus, both stubs have "END State Maintenance" signs a short distance from US 11.
VA 363 does not appear on official maps.

VA 363
1975 Augusta County

From: near Clarksville (Mecklenburg County)
To: Oconeechee State Park
Total Length: 6.02 miles

ROUTE LOG

Creation: Appeared in June 1968 (CTB) as new primary routing, running as it does now. This is the only VA 364.
Adjustments: None
Improvements: Paved upon designation; no multilane segments
Posting: Shields each direction on US 58 only
Multiplexes: None
Legislative names: None
Other names: Occoneechee Park Rd
Scenic Byway: None
Comment: Implied but not labeled on official maps since 1977.
VA 364 consists of two long prong roads in the state park.

VA 364 implied
1977 Official


VA 364 detail
1975 Mecklenburg County

From: Wytheville (Wythe County)
To: Wytheville Community College
Total Length: 0.57 miles

ROUTE LOG
US 11: 0 - 0
END VA 365: 0.57 - 0.57

Creation: Appeared July 1968 (CTB) as new primary routing, running as it does today. This is the only VA 365. Consists of the road from US 11 to the college, plus a second road on the east side of the campus connecting the Main VA 365 piece to some parking lots.
Adjustments: None
Improvements: Fully paved upon inception; multilane briefly at its US 11 end
Posted: Fully posted with shields at US 11 and at its other end; second segment is posted in circles
Multiplexes: None
Legislative names: None
Other names: None
Scenic Byway: None
Comment: VA 365 is just west of the I-77/81 interchange.
VA 365 does not appear on Official maps and the second segment does not appear on county maps.


VA 365
1995 Wythe County

From: near Chester Gap (Chesterfield County)
To: John Tyler Community College
Total Length: 0.67 miles

ROUTE LOG

Creation: Appeared Jan 1969 (CTB) as new primary routing. This is the only VA 366.
Adjustments: None
Improvements: Paved upon inception; multilane briefly leaving US 1-301
Posted: White rectangle at US 1/301 was removed in early 2000s for construction alng 1-301 and was not returned.
Multiplexes: None
Legislative names: None
Other names: None
Scenic Byway: No segments
Comment: VA 366 is shown on official insets since 1988.
VA 366 is located just south of VA 10.

VA 366
1988 official


VA 366 detail
1975 Chesterfield County

From: City of Suffolk
To: Tidewater Community College, Frederick Campus
Total Length: 4.07 miles

ROUTE LOG

Creation: VA 367 was created in Jan 1969 (CTB) as new primary routing, running as it does today. This is the only VA 367.
Adjustments: The 1971 Nansemond County and 1973 City of Nansemond maps both show the length of VA 367 as 7.70 miles. Sometime after this the mileage dropped to today's 4.07 miles.
Improvements: paved upon inception; no multilane segments
Posted: When I lived in Norfolk in 1991-93 there was a reassurance shield entering campus. This was gone when I field visited again in mid-2000s.
Multiplexes: None
Legislative names: None
Other names: None
Scenic Byway: No segments
Comment: VA 367 consists of many roads
VA 367 does not appear on officials.

VA 367
1973 City of Nansemond

From: City of Lynchburg
To: Central Virginia Community College
Total Length: 1.24 miles

ROUTE LOG

Creation: VA 368 was created in Aug 1969 (CTB) as new primary routing, running as it does today. This is the only VA 368.
Adjustments: None
Improvements: paved upon inception; no multilane segments
Posted: Not posted back to at least the mid 1990s
Multiplexes: None
Legislative names: None
Other names: Harvard St
Scenic Byway: No segments
Comment: VA 368 contains two roads: one connecting 29 bus to Wards Fewrry Rd and a road around the backside of the campus.
VA 368 does not appear on officials and was not on an early 90s VDOT City Atlas map either.

From: Tazewell County
To: Southwest Virginia Community College
Total Length: 1.37 miles

ROUTE LOG

Creation: VA 369 was created Feb 1969 (CTB) as new primary routing, running as it does today. This is the only VA 369.
Adjustments: None
Improvements: paved upon inception; no multilane segments
Posted: posted with shields at both US 19 entrances, plus a couple shields internally,
Multiplexes: None
Legislative names: None
Other names: Community College Dr
Scenic Byway: No segments
Comment: VA 369 consists of a loop plus a couple stubs off the loop. One of the stubs is posted.
VA 369 dips briefly into Russell County.
VA 369 does not appear on Official maps.

VA 369
1995 Tazewell County

Natural Tunnel State Park (Scott County)
Total Length: 0.84 miles

ROUTE LOG

Creation: VA 370 was created Jan 1970 (CTB) as new primary routing, running from SR 871 into the state park. This is the only VA 370.
Adjustments: In Feb 1980 (CTB), a second piece of VA 370 was created running off SRs 646/795 on the other side of the ravine.


VA 370 original segment
1975 Scott County


VA 370 expanded
1995 Scott County


Improvements: paved upon inception; no multilane segments
Posted: Fully posted with shields on both segments; a white rectangle reassurance sign leaving SR 646
Multiplexes: None
Legislative names: None
Other names: None
Scenic Byway: No segments
Comment: VA 370 does not appear on official maps.

From: near Martinsville (Henry County)
To: Patrick Henry Community College
Total Length: 0.94 miles

ROUTE LOG
Old SR 714: 0 - 0
END VA 371: 0.94 - 0.94

Creation: VA 371 was created May 1970 (CTB) as new primary routing, running as it does today. This is the 2nd VA 371.
Adjustments: None
Improvements: paved upon inception; no multilane segments
Posted: Posted with shields on SR 714 and also TO 371 shields are on VA 174 at its jct with SR 714..
Multiplexes: None
Legislative names: None
Other names: Patriot Ave
Scenic Byway: No segments
Comment: Appears on officials back to 1994.

VA 371
1994 Official
Previous VA 371's:

1928 ROUTE LOG
VA 37: 0 - 0
VA 13: 19 - 19
END VA 371: 15 - 34


VA 371 #1: Appeared in 1923 as a renumbering of VA 7X, running from the Reedsville cul-d-sac to VA 37 (now SR 766) Templemans Crossroads. VA 371 used today's SR 644 from the Reedville cul-d-sac, then US 360 from Reedville to Callao except: SR 726 in Reedville; SR 703/652 in Beverleyville; SR 702/646 in Lilian; SR 640/695 in Blantons Corner; SR 694/636 in Avalon. VA 7 then followed VA 202 northwest to Templemans except it used the SR 617 loop in Hyacinth
In August 1928, VA 371 was renumbered as VA 607.


VA 371 #1
1924 Official

From: Abingdon (Washington County)
To: Virginia Highlands Community College
Total Length: 0.73 miles

ROUTE LOG
VA 140: 0 - 0
END VA 372: 0.73 - 0.73

Creation: Created Oct 1970 (CTB) as new primary routing running the way it does now. This is the 2nd VA 372.
Adjustments: None
Improvements: Paved since inception; multilane briefly near VA 140
Posted: Fully posted with shields at both ends
Multiplexes: None
Legislative names: None
Other names: None
Scenic Byway: No segments
Comment: There is now an unposted turn right where it abuts I-81.
VA 372 does not appear on official maps.

VA 372
1975 Washington County
Previous VA 372's:

1928 ROUTE LOG
VA 37: 0 - 0
END VA 372: 2 - 2

VA 372 #1: Appeared 1923 as a renumbering of VA 7Y running from VA 37 (now VA 3) to George Washington's Birthplace
In Aug 1928, VA 372 was renumbered as VA 610. Today it is VA 204.

VA 372 #1
1928 Official

From: Dublin (Pulaski County)
To: Dublin (Pulaski County)
Total Length: 0.93 miles

ROUTE LOG
US 11: 0 - 0
VA 100: 0.93 - 0.93

Creation: Appeared Dec 1971 (CTB) as new primary routing, running the way it does now. This is the 2nd VA 373.
Adjustments: None
Improvements: Paved upon inception; no multilane segments
Posting: Fully posted with shields at VA 100; not posted at all at US 11.
Multiplexes: None
Legislative names: None
Other names: College Dr
Scenic Byway: No segments
Comments: VA 373 does not appear on official maps.

VA 372
1973 Pulaski County
Previous VA 373's:

1925 ROUTE LOG
US 11, VA 33: 0 - 0
VA 37 WB: 23 - 23
VA 37 EB:
END VA 373: 0.5 - 23.5

VA 373 #1: Appeared June 1923 (CTB) running from VA 33 (now US 11) Strasburg east to VA 37 (now Old Winchester Pike) Riverton (now within Front Royal)
In March 1927 (CTB), VA 373 was extended south with VA 37 into Front Royal, then extended east as new primary routing 3 miles. This was never shown on maps.
In Aug 1928, VA 373 was renumbered as part of VA 55.
Today, VA 373 is generally VA 55 east of Strasburg although it appears there are some old alignments along this route. East of US 340-522 VA 373 used E. Strasburg Rd. South of the S. Shenandoah River, VA 373 used N. Royal Ave, then US 340 to central Front Royal; Main St, Water St; Happy Creek Rd; SR 647 to the vicinity of SR 624 where VA 373 ended.

VA 373 #1
1928 Official

From: Glenns (Gloucester County)
To: Rappahannock Community College
Total Length: 0.14 miles

ROUTE LOG
VA 33: 0 - 0
END VA 374: 0.14 - 0.14

Creation: VA 374 appeared as new primary routing in Dec 1971 (CTB), running the way it does now. This is the 2nd VA 374.
Adjustments: None
Improvements: Paved upon inception; no multilane segments
Posting: Fully posted with shields at VA 33
Multiplexes: None
Legislative names: None
Other names: College Dr
Scenic Byway: None
Comment: VA 374 does not appear on official maps

VA 374
1975 Gloucester County
Previous VA 374's:

1928 ROUTE LOG
US 15, VA 32: 0 - 0
END VA 374: 23 - 23

VA 374 #1: Appeared in June 1923 (CTB) as an upgrade to CR 1, running from VA 32 (now US 15) Orange east 10 miles to about Rhoadesville.
In Jan 1925 (CTB), VA 374 was extended east 5 miles.
In March 1927 (CTB), VA 374 was extended east 5 more miles.
In Jan 1928 (CTB), VA 374 was extended east 3 miles to beyond Locust Grove, ending 2.75 miles short of VA 37 (now VA 3) Wilderness.
In Aug 1928, VA 374 was renumbered as VA 702. Today it is VA 20 except it used VA 20 Business, Waugh Blvd, SR 2013, SR 671 through Unionville; SR 743, SR 741 through Rhoadesville; SR 742, SR 740

1927 Official

From: near Wilderness (Orange County)
To: Germanna Community College
Total Length: 0.33 miles

ROUTE LOG
VA 3: 0 - 0
END VA 375: 0.33 - 0.33

Creation: VA 375 appeared as new primary routing in Nov 1970 (CTB), running the way it does now. This is the 2nd VA 375.
Adjustments: None
Improvements: Paved upon inception; no multilane segments
Posting: White rectangle at VA 3
Multiplexes: None
Legislative names: None
Other names: College Dr
Scenic Byway: None
Comment: VA 375 does not appear on official maps

Current VA 375
1981 Orange County
Previous VA 375's:

1928 ROUTE LOG
VA 37: 0 - 0
END VA 375: 14.4 - 14.4

VA 375 #1: Appeared in March 1924 (CTB) as new primary routing, running from VA 37 (now VA 3) east of Comorn northeast 6 miles towards Hampstead.
In Jan 1925 (CTB), VA 375 was extended 8.4 miles towards Dahlgren.
In Aug 1928, VA 375 was renumbered as VA 612. Today it is VA 206 toOwens, then SRs 624 and 614 in a big loop around to Dahlgren.

1928 Official


Northern Virginia Community College
Total Length: 1.13 miles

ROUTE LOG


Creation: Appeared as new primary routing in March 1971 (CTB). This is the 2nd VA 376.
Adjustments: None
Improvements: Paved upon inception; no multilane segments
Posting: Fully posted with shields at VA 236; white rectangles at other entrances plus internal intersections.
Multiplexes: None
Legislative names: None
Other names: Too many to list
Scenic Byway: None
Comment: Does not appear on official maps
There are two other entrances not on VA 236, both on SR 710 Wakefield Chapel Rd
VA 376 is the second-most well posted 3xx series route internally (behind VA 319)


Current VA 376
2004 Fairfax County


VA 376 rectangles at SR 710 and at an internal intersection
Mapmikey, Aug 2007

Previous VA 376's:



VA 376 #1: Appeared in 1926 as a renumbering of VA 361, running along Main St in Berryville between VA 37 (now US 340-VA 7 Bus jct) and VA 251 (now VA 7 Bus-SR 616 jct).
In Aug 1928, VA 376 was renumbered as VA 826. Today it is part of VA 7 Business.
VA 376 doesn;t appear on any map I've seen but it is listed on the reverse of the 1926 Official and also in the 1926 Route log.


VA 376 described
1926 Official, reverse

From: Middletown (Frederick County)
To: Lord Fairfax Community College
Total Length: 0.58 miles

ROUTE LOG

Creation: Appeared in July 1971 (CTB), running as it does now. This is the 2nd VA 377.
Adjustments: None
Improvements: Paved upon inception; no multilane segments
Posting: Not posted at all
Multiplexes: None
Legislative names: None
Other names: Skirmisher Ln
Scenic Byway: None
Comment: Does not appear on official maps

VA 377
1975 Frederick County
Previous VA 377's:

1928 ROUTE LOG
VA 37: 0 - 0
END VA 377: 0.9 - 0.9

VA 377 #1: Appeared in March 1927 (CTB) as new primary routing, running from VA 37 (now VA 3) Oak Grove north to around Monroe Hall near Colonial Beach.
In Aug 1928, VA 377 was renumbered as VA 611. Today it is part of VA 205.

Original VA 377
1928 official

From: Cochran (Brunswick County)
To: Southside Community College
Total Length: 0.42 miles

ROUTE LOG
VA 46: 0 - 0
END VA 378: 0.42 - 0.42

Creation: Appeared Jan 1972 (CTB) as new primary routing, running as it does now. This is the only VA 378.
Adjustments: None
Improvements: Paved upon inception; no multilane segments
Posting: Full shields at VA 46
Multiplexes: None
Legislative names: None
Other names: Campus Dr
Scenic Byway: None
Comment: VA 378 does not appear on official maps, but is labeled in some DeLorme editions.
VA 378 is wedged between US 1 and I-85.

VA 378
1975 Brunswick County

From: College Dr, City of Franklin
To: Paul D Camp Community College
Total Length: 0.22 miles

ROUTE LOG

Creation: Appeared in Dec 1972 (CTB) as new primary routing, running the way it does now. This is the only VA 379.
Adjustments: None
Improvements: Paved upon inception; no multilane segments
Posting: Shields on both entrances leaving College Dr.
Multiplexes: None
Legislative names: None
Other names: None
Scenic Byway: None
Comment: Does not appear on official maps

VA 379 reassurance
Mapmikey, Feb 2006

From: Seven Pines (Henrico County)
To: Technology Blvd (Henrico County)
Total Length: 0.78 miles

ROUTE LOG
VA 156: 0 - 0
Technology Blvd: 0.78 - 0.78

Creation: Appeared as a renumbering of today's VA 345 between 1970-75. This is the only VA 380.


VA 345 still present in 1969
1969 Henrico County Map


VA 380 by 1975
1975 Henrico County Map


Adjustments: Bryan Harvey reported that in the 1997-98 timeframe, White Oak Technology Park was built, shortening VA 380 to its current form. The 2002 Official was the first to show this.
Improvements: Paved upon inception; no multilane segments
Posting: Fully posted with shields;
Multiplexes: None
Legislative names: None
Other names: Elko Tract Rd
Scenic Byway: None
Comment: VA 380 began appearing on state official maps in 1981.
VA 380 serves the Elko Tract area which contains VDOT facilities (VDOT Materials Division, the Elko Area Headquarters and the Sandston Residency).
A fascinating story of what the Elko Tract is/was and how in the world this is directly related to today's VA 345 is located at the VA 345 entry. You won't be disappointed.


VA 380 initial appearance on officials
1981 Official


VA 380 altered
2002 Official

---

Previous: VA 360 | Next: VA 381
Top | Virginia Hwy Index Home

Page last modified 8 January 2017